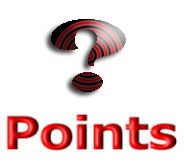 HOW MANY POINTS ON DRIVING RECORD GOES AFTER DUI CONVICTION IN LOS ANGELES?
A DUI conviction in Los Angeles, or anywhere else in California, will add 2 points on driving record. The points are counted pursuant to California VC 12810(b). The points will remain on record for 5 years and will clear off the record on its own after the passage of time.
IS THERE A WAY TO AVOID POINTS ON DRIVING RECORD AFTER A DUI ARREST?
It will depend on the facts of your case.  Attorney DUI Los Angeles will need to study and evaluate your case.  If Los Angeles DUI lawyer can find problems with your case, he will attempt to negotiate a deal that does not carry points.  Often, the point count is a a minor concern because a DUI is so much more damaging to the driving record then a point count with the DMV.  A DUI can have high fines, jail time, probation, community labor, suspended license and other serious consequences.
DO ALTERNATIVE PLEAS TO DUI AVOID POINTS ON DRIVING RECORD?
Yes, they can.  Los Angeles DUI attorney can help you avoid point count when we are able to negotiate better alternative charges.  For example, a fairly common offense that will can be negotiated after a DUI arrest is a drunk in public charge, in violation of California Penal Code section 647(f).  Many other penal code sections and some vehicle code sections will not carry points on the DMV record.  A common California Vehicle Code section violation that does not carry points is CVC 12500.  Also, an open alcohol container in violation of Business and Professional Code section 25620 does not carry points, as well as some other alternatives.
WHAT ALTERNATIVE CHARGES CARRY POINTS BUT AVOID A LICENSE SUSPENSION
A very common alternative to a DUI, called "reckless driving", will avoid a suspension but will add points to the driving record.  A reckless driving can be of two different types, a "wet reckless" and a "dry reckless".  A "wet reckless", is a lesser included offense to the DUI because it involves suspected use of alcohol.  The main different between a "wet reckless" and a "dry reckless" is the priorability of the charge to a DUI.  Simply, a "wet reckless" is priorable to a DUI and a "dry reckless" is not.  A person who has a "wet reckless" conviction and gets arrested for a DUI will be charged with a second offense DUI despite not having any prior DUI convictions.
LOS ANGELES DUI ATTORNEY HELP MINIMINZING POING COUNT
Hiring one of best DUI lawyers in Los Angeles can help you in a many different ways. For example, many Los Angeles drunk driving cases involve additional charges, such as hit and run or driving on a suspended license.  Both, hit and run and driving on a suspended license are separate offenses with a conviction that can result in additional point count.  Driving on a suspended license carries 2 points, most infractions carry 1 point and hit and run carries 2 points.  If a person gets 4 points in one year, counting violation date to violation date, he will face a "negligent driving" determination which can result in additional license suspension.  Los Angeles DUI lawyer can help you avoid additional convictions because we can negotiate dismissal of all additional charges.  This strategy will not help you if you have already accumulated points on your driving record.  Negligent operator determination are triggered after 4 points in one years, 6 points in 2 years, and 8 points in 3 years.
LOS ANGELES DUI ATTORNEY AVAILABLE TO HELP YOU NOW!
Call our office (818) 921 7744  to talk to an attorney right away.  We are waiting by the phone for your call.  You will be able to talk to an attorney directly about your case and get a solid advise even if you are unable to afford our services.
Los Angeles DUI attorney provides quality representation at affordable price and will offer great payment plans.
YOU MAY ALSO BE INTERESTED IN: