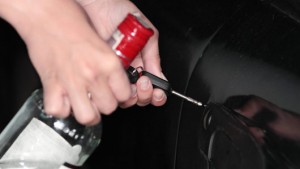 Teen Drunk Driving is considered a more serious offense then a simple DUI if the blood alcohol level above the .08% concentration.  The courts consider young offenders to be at risk of re-offending and committing multiple DUI later in life.  Researchers also provide other facts about teenagers including the link between teen drunk driving and higher chances of substance abuse later in life.  You can call our office for a free Los Angeles DUI attorney consultation anytime.
The courts can prosecute teen drinking and driving several different ways.  If the teenanger is under 18 years of age, he can only be cited to a juvenile court.  There are multiple juvenile courts in Los Angeles, but some courthouses do not have a juvenile department.  For example, most criminal cases from juvenile offenders in Van Nuys, Tarzana, Encino and other San Fernando valley cities will be cited to Sylmar juvenile hall.  Many Los Angeles Underage driver's cases are cited to Eastlake Juvenile Hall.
If an underage driver is over 18 years of age, he will be cited to an court in Los Angeles county that handles DUI cases in Los Angeles.  An adult drunk driver can be prosecuted under California Vehicle Code section 23152 when his blood alcohol level is above the alcohol legal limit of .08% or when the police believes that he is too impaired to operate a motor vehicle.  An underage drunk driving can be prosecuted under California Vehicle Code 23152, under a zero tolerance California Vehicle Code 23136 statute or under California Vehicle Code section 23140.  Underage DUI convictions under all 3 statutes may result in 1 year license suspension for any teen and can have other consequences, including fines, delayed driving license and other legal DUI consequences.  A DMV prosecution for a underage drunk driving, even when not filed in adult court, will be shown on the DMV record and will count as a prior offense for DMV point count, number or DUI offenses and other consequences of DUI.  Therefore it is often more important to defend underage drunk driving case at the DMV, then in court.  The consequences for underage DUI suspension can be severe for anyone who relies on a car to get around.  Los Angeles DUI attorney can also help with a critical need application and a DMV hearing.  Call Los Angles DUI lawyer for a free consultation about your Underage DUI case in Los Angeles.
Los Angeles DUI attorney defends underage drunk driving cases for many years and can help you fight your Los Angeles DUI case.  We specialize in all types of DUI cases including minor DUI (also known "underage DUI"), .05% BAC DUI cases, a .01% BAC cases (also called zero tolerance civil punishment) and more serious cases where a drunk driving underage driver causes an accident or has a high blood alcohol level.  Los Angles DUI lawyer knows how to navigate any case into a better negotiating position and is very creative in setting up defense to very difficult DUI or teen drinking and driving cases.  Drunk Driving attorney Los Angeles also can help with post conviction for immigration or other types of cases and help persons who are on DUI probation to avoid DUI probation violation.  We offer competitive rates and payment and will guide you and your parents through this difficult process. Call us (818) 921 7744 now to talk to a DUI attorney directly.