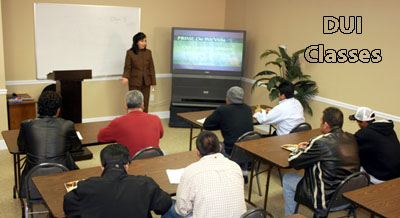 As part of a DUI conviction, often, the Superior Court will order a DUI classes.  The class is required as part of any first offense DUI and any second offense DUI.  A DUI is considered a first DUI when a defendant has a prior DUI conviction that dates less then 10 years from one arrest date to another arrest date.  For example, if you have a Los Angeles DUI conviction that is dated 9 years and 11 month before your current Los Angeles DUI arrest; however, the offense happened 10 years and 1 day prior to your current Los Angeles DUI arrest, you will not be charged with a second DUI in Los Angeles.  Los Angeles DUI attorneys can help you fight your case and even in the even Los Angeles DUI police charged a second offense DUI, get a dismissal of that.  On the other hand, if the date of current offense is within 10 years of your old Los Angeles DUI, you will be charged with a prior.
On a first offense DUI, Los Angeles Superior court is required to order a first offender DUI classes.  This class is titled "AB-541" and is typically 3-4 month long depending on county.  Los Angeles DUI offenders have to do 3 month of  DUI classes.  The class is required part of the plea and mandates attendance of counselor/group guided classes of approximately once per week for 12 weeks.  As part of the class, most defendants also do approximately 6 self-help educational classes, such as AA.
A person who is convicted of a DUI and admits to a special allegation of refusal to submit to DUI chemical test will likely face a much longer program, which is designed to be approximately 9 month. Los Angeles DUI attorney can often negotiate a favorable disposition and avoid a 9-month program of DUI classes, often, even when you refused to submit to DUI chemical test after a DUI arrest Los Angeles.
Similarly, a person who is convicted of a DUI and admits to a special allegation of having at least .20% blood alcohol level (BAC) will also likely face a much longer alcohol educational program – typically also 9 month long.  Drunk driving attorney Los Angeles often can also negotiate a plea bargaining deal that does not involve attendance in lengthy DUI classes.  Call Los Angeles drunk driving attorney to get free consultation on your Los Angeles DUI case.
Second offenders DUI defendants in Los Angeles, upon conviction, will face much longer DUI classes that is designed to last eighteen month.  The legislative title of the program is "SB-38" and it is a required element of any 2nd DUI guilty plea.  Recently, the legislation passed law to allow the court a discretion not to impose an 18 month program when DUI defendants can show that they have completed an SB-38 program during a previous DUI conviction. For example, it is arguably unnecessary for a Los Angeles drunk driver who is faced with a 3rd DUI  or 4th DUI offense in the recent few years to complete an 18 month program as part of the punishment simply because the courts will not be convinced that education is helping such Los Angeles DUI defendant.
In addition to 18 month SB-38 program, some providers will offer a 30 month program.  The 30 month program is designed as part of a "30/30" sentence after a DUI conviction.  The "30/30" sentencing is a sentence to 30 days of county jail and 30 month of education.  Such program for example is offered to Los Angeles drunk drivers who are remorseful and are willing to rehabilitate.  If you are faced with Third DUI  in Los Angeles, please call our office directly at (818) 921 7744 .  Los Angeles DUI attorney have great success in obtaining dispositions that involve minimal jail time, such as house arrest or the "30/30" program.